Coach Nuñez Mind set
Nuñez Tennis Training knows…
that each player as an individual needs a one on one attention to ensure the correct and appropriate development as a player and human being. Each player has their own style, game plan, talent and temperament; coaches at NTT understand these very important aspects and know just how to adjust their coaching skills to generate the correct approach and chemistry for each player. Nuñez will elaborate and tailor-made game plan that is best suited for your player, keeping in mind that every lesson will have a specific task and be goal oriented.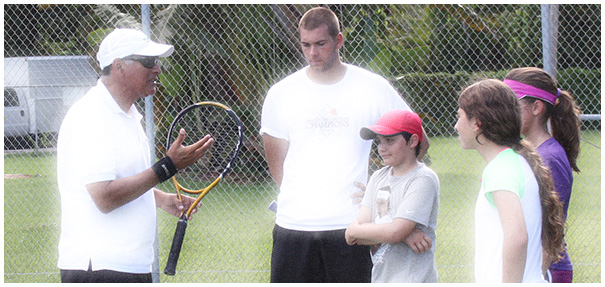 In addition to individual training, all players should interact and compete with other players on the court as competitors or partners, and off the court with good sportsmanship. Group and team practices are the ideal setting for players to test their skill and abilities with their peers. Also, having the players compete against each other in practice matches and tournaments, where NTT coaches will be observing the players with a clinic eye, will improve their overall game. Here is when Coach Nuñez is at his best, giving expert guidance and comprehensive analysis of each player's technique, game plan, and mental attitude. With this in mind the Nuñez philosophy is to prepare players to learn to fly on their own; by learning self-confidence, learning to take ownership of their actions, learning to solve problems on their own, understanding the efforts that it takes to achieve their goals and learning to balance it all with a normal social life.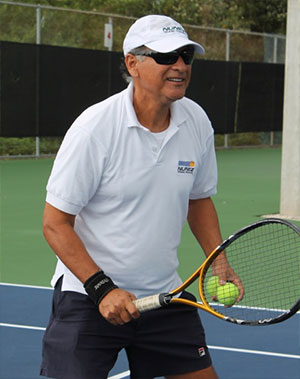 Colon E. Nuñez, originally from Ecuador and a US citizen, played on the ATP tour from 1974-80. He played Davis Cup for Ecuador for seven consecutive years and at the conclusion of his ATP career in 1980, served for eight years as the Director and Head professional of the legendary Harry Hopman International Tennis Academy in Largo, Florida. During that time Coach Nuñez also helped to open the Harry Hopman International Academy in Bologna, Italy.
Coach Nuñez has trained and worked with well-known professional tennis players including six past Grand Slam Champions; Andres Gomez, Michael Chang, Jim Courier, Mary Pearce, Paul McNamee and Peter McNamara, Nicolas Pereira, Nicolas Lapentti among many and continues to work with current ATP/WTA touring professionals, collegians, and others. Over the years, he has been involved in the coaching and development of over thirty- five thousand children utilizing his time proven methods.
For the past twenty years, Colon has successfully owned and operated NUÑEZ TENNIS TRAINING in Aventura, Florida. Coach Nuñez, with nearly forty years of professional experience, has provided quality tennis instruction, training, and services with his team of certified teaching professionals.
A World-Class Coach, his teaching methods and staff development programming have enabled him to create a team of certified USPTR and USPTA teaching professionals with the ability to generate positive teaching, coaching and playing experiences for all level of players.